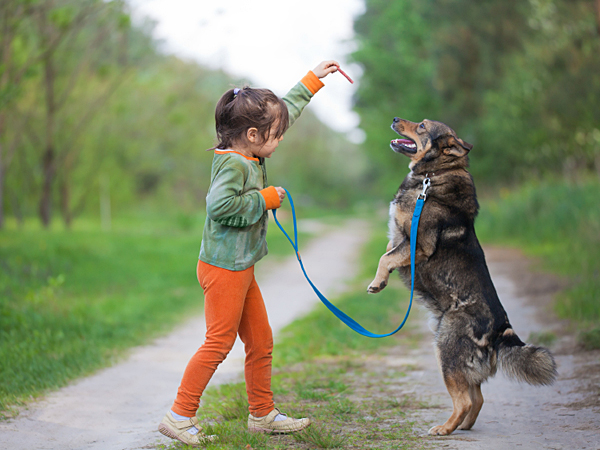 Child-Friendly Paws
A home is almost, more often than not, incomplete without having some tail-wiggling paws running around it. Dogs are oftentimes being looked at as an integral part to a family. It is essential to always know which breed of dog can be easily dealt with for a family. Some dogs may not be as nice and kind to babies and small kids as other dogs, so it is always a must to do a research before actually adopting one. Kids like touching, eating and smelling almost everything, that is why it is important to supervised them whilst trying to handle a dog. Dogs aren't placed in your homes and expected to have full knowledge on how to take care of your children, which is why it is important that parents warn their kids of the harmful things that might happen to them if they didn't know how to take care of these furry little fellows. Some things you have to keep in mind is that a lot of stray dogs out there need a home they can seek shelter on, and it is important not only for the happiness of a child but for the safety of these pups to be loved and taken cared of by a family.
Know What Your Family Wants
It is imperative to know first on whether or not your family needs or wants a dog before actually going out to choose one. A relationship with dog is supposed to last a lifetime, and that is something parents must always remember. These dogs also need support from you like your children do, and that is why it is essential to check on whether you are able to do just that. Their needs do not only range from the basics: water, food, and a place to sleep. Parents must also have the ability to let their dogs enjoy other privileges that they are worthily entitled to. Time is also an essential part that has to be given in a dog's life. Owners must always take into consideration how these dogs actually feel and need the sense of being loved. Read on to further know more about owning a pet dog.
Bichon Frise Pups
Number one on the child-friendly list of dogs is the cute and nice bichon frise. Your kids will have no hard time falling in love and having so much joy with these cute little fluffy puppies. I doubt no child will ever not fall in love with one. Their fluffy fur makes them look like a cloud in a sunny day, which is the reason for their cuteness. Kids who love extreme games and tiring play times can actually have these furry babies play with them, despite the fact that they are fragile-looking. They have this adorable aura that kids and even adults will love about. These little cuties only want to enjoy playtime with their owners What's more to love about them? Their furs do not shed, thus not affecting kids who have a high tendency to get allergies from furry animals.
Adorable Labradors
Almost everyone loves to own a labrador. It isn't really shocking. They are the breed of dogs that almost fit every owner's specifications. They are very patient, intelligent, and easy-going.
Golden Retrievers That Will make You Happy
Labradors are oftentimes seen as the same breed as golden retrievers. Even with a variety of differences, they are the ideal breeds for families who are dog lovers.